If we listen to Geert Wilders, we might just save Western civilization.
The Muslim Issue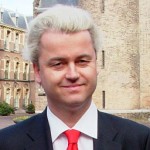 Geert Wilders 10 points plan to save the West "… Ladies and gentlemen, I am often asked whether I have any answers to the problem and what those might be. Well, I certainly have some answers. Here are ten things we would have to do to stop the Islamization of the West:
1. Stop cultural relativism. We need an article in our constitutions that lays down that we have a Jewish-Christian and humanism culture.
2. Stop pretending that Islam is a religion. Islam is a totalitarian ideology. In other words, the right to religious freedom should not apply to Islam. "Death for Apostasy" 4:89, Sahih Bukhari
3. Stop mass immigration by people from Muslim countries. We have to end Al-Hijra.
4. Encourage voluntary repatriation.
5. Expel criminal foreigners and criminals with dual nationality, after denationalization, and send them back to their Arab countries. Likewise, expel all those who incite…
View original post 204 more words